It's not just a class
With 400 filmmakers like you, it's a gathering!
Filmmaking right now
Get the knowledge you need for filmmaking today
Every topic covered
Learn the pitfalls to avoid, the cheats, the tricks, so your film stands a better chance of success
Amazing delegates
Find new partners for your project
World class guests
Last years Oscar winner Gareth Unwin kicked of the masterclass
Information overload
Bring an open mind and empty notepad... you will need them both!
The Guerilla Film Makers Masterclass 2015... The Final Chapter
This will be the final time I run the Guerilla Filmmakers Masterclass. I love the masterclass, I have been teaching for 15 years now, but it's time for me to shift my focus on bold new initiatives.
In order to close this chapter on a high and to get as many people in the room as possible, I have decided to drop the registration from £140 to £69 for the two day event.

Come and be part of what promises to be a life changing and career accelerating two day event. I promise.
Chris Jones
What are YOU waiting for?
Guerilla Film Making is about YOU creating world class, career launching, marketable and sellable feature films with the resources that YOU have and can get now. It's about taking considered, informed and inspired ACTION today… 
Where is the money to make my film?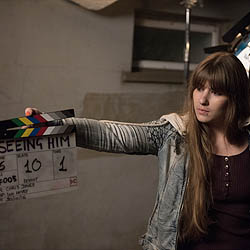 If there is one question I get asked over and over, it's 'where can I get funding?'
Honestly? There is no pot of money out there. And if there were a pot of money, no-one would tell you about it.

The truth is you are probably not going to get 'funding'.  And if you do get some money, it probably won't be the kind of money you want, or may have been led to believe you cound get access to.
But on the masterclass we WILL talk about INVESTMENT – there is a small but crucial difference between 'funding' and 'investment', and that difference is based on the commercial viability and the sales model you propose for your film.

And when I say 'commercial', I am not talking about Michael Bay style 'commercial' film making. Arthouse, horror, documentary, thriller, rom-com etc… I believe that ALL films are commercial, as long as you know how big your audience is and how you can connect with them.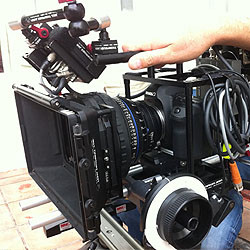 And here is the good news.  
And it's REALLY good news!

You have already got more than you need to make your film. And more than that, enough to make an EXTRAORDINARY film.
You have a great idea.
You have the will to make it happen.
You have the vision to tell your story in a fresh way.
And you have the 'right stuff'.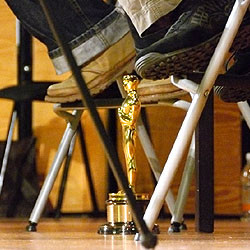 This is the same 'right stuff' that the Apollo astronauts talked about when they went to the moon.
You need it so that you can tackle the mountain of problems that you will face on your journey. If you don't have that 'right stuff', film making probably isn't for you.
And it's the 'right stuff' that in my experince, attracts investors too.
'After producing a string of award-winning short-films... and frustrated at not being able to move to the next stage with our concepts, we were feeling spent and disillusioned. Then we met Chris Jones at his Guerrilla Filmmakers workshop... Wow, man he put the steel back into our rod!
Greg Hall, Producer - The Treehive, Australia
Right Tool For The Right Job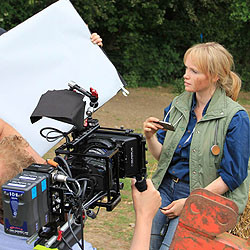 So now, all you are really missing are the details so you that can make the right choices, hour by hour, day by day, week by week, as you move through your project. Because at the end of the day, filmmaking is simply a series of tough decisions, backed up by your creative talent.

By focusing on what you have, instead of what you don't have, you can actually get your film made now. Not one day, not some day…those roads lead nowhere.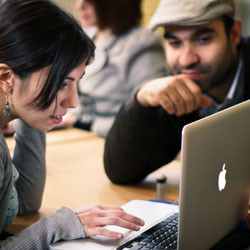 By making your film with what you have and can get, you can maintain creative control and make the movie you WANT to make. 
And here's the amazing thing. Once you commit to that journey, money and resources seem to attract themselves to you, kind of magnetically. THE POT OF MONEY STARTS TO FIND YOU! To outsiders, this looks like some kind of magic, or they may say'wow, you were lucky!' Trust me, luck has NOTHING to do with it.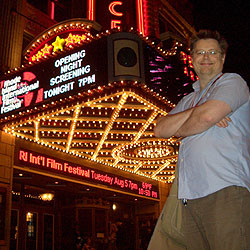 'I just wanted to say thank you so much for coming all the way to Australia to do the Guerilla Masterclass! Even though there were almost 30 other people in the room, it felt like everything you were saying was directed right at me - it was everything I needed to hear and learn.'
Candice Deere, Writer/Producer from Maryborough, Australia
So What Is In The Workshop?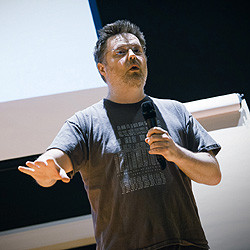 Over two packed days, we work through the whole process from concept, to completion and beyond... story idea, genre impact, budget, script, funding, investors, company structure, copyright, casting, design, camera, HD technologies, editing, mastering, sales and distribution, self distro, next steps…. And tons, and I mean TONS more. There is a schedule here...

Over 3,000 filmmakers have now taken the Masterclass and you can read feedback form past masterclasses here.

'Chris directs his audience through the minefield of independent film making with confidence and clarity. His own experience as a 3 time feature film maker and writer of "
The Guerilla Film Makers Handbook

" allows him to deliver his hard won insights with more conviction and pragmatism than just about any other independent filmmaker in Britain today'.
Steve Wilson, CEO of Whistling Mule Productions
My Pledge To You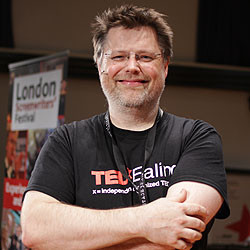 If your business, aspirations and film projects are not taken to a whole new level during the workshop, I will give you a full refund on the spot. Remember, as an organization, we are in the trenches right beside you. We have made films, we are making films and we connect with hundreds of experienced film makers through our books and bigger events.
Chris Jones, Film Maker and Author
'Your honest, vulnerable energy, combined with clarity and fun made this seminar a powerful tool for transformation in my perception of who I am as a film maker, and for that I send you my heartfelt thanks… Who you are in your books and films, opened the door to seeing who I could be… This is new. This works. This is a rare gift. Thank you Chris!'
Kathy Fedori, Film Maker, Canada

Connect RIGHT NOW!
As part of the masterclass, you will be invited to join our online social media site, so that you can network and collaborate with all the other film makers who are attending the event.
We have found this to be a powerful way for delegates to network BEFORE the event so that you can take full advantage of the possibilities thrown up by the masterclass. The Network is free to all delegates of the Guerilla Film Makers Masterclass.
Terms and Conditions
If you need to cancel your ticket purchase you can get a full refund up until 30 days prior to the first event. After that we cannot offer refunds. Refunds will be paid back promptly although there will be a 10% admin fee deducted. Alternatively, tickets are transferable to other people if you can find someone to replace you. We are happy to change the name on the ticket. Please allow 48 hours for this change to take place. We reserve the right to decline admission and offer a full refund at our discretion. We reserve the right to change the venue. We reserve the right to cancel the event and offer a full refund.