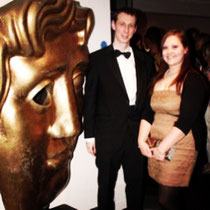 By Andy Carslaw
I've been following Chris Jones ever since the original Guerrilla Film-maker books. Last year I risked potential divorce by attending his June master-class during my wedding Anniversary. Now one year on, I have a number of film projects on the go. What did the course do for me personally?
1. The single most important aspect was that it introduced me to a network of like-minded people. I went up there literally knowing nobody. Being completely out of my comfort-zone forced me to throw myself in deep-end. Amongst others I met the producer on my last project, and the script-writer and DOP for our follow-up. What is great is that I am still meeting more and more amazing #Gfilm folk, many from subsequent master-classes, some of which I'm collaborating with on their projects.

2. There are talkers and doers. This gave me the kick up the backside I needed to become a "doer". It inspired me to make it happen. It taught me I that I have the power to make it happen. It taught me there will be some (possibly many) bumps along the way. But what a journey it will be! Who could have known that within a year of taking the masterclass we'd be short-listed and watching our latest production on the big screen with a packed audience at BAFTA?

3. The master-class trained me to keep up good online practices such as creating a web presence, social networking and regular blog writing(http://fernyfilms.wordpress.com). It also provided a wealth of invaluable first-hand knowledge by people who have gone through the cycle (usually the hard way). There is no sugar coating, it's refreshingly honest and quite often down-right brutal! My brain was almost fried with information overload by the end of the two day course.

4. I now have a clear idea of where I sit in terms of the film-making spectrum, what level I am at, where I should be pitching to go next. I'm not going to pretend I am there yet, I'm clearly not. But it has pushed me to be brutally honest with myself and assess my strengths, weaknesses and the direction I want to head. Every day I feel I am getting closer to where I'd like to be, this thought is very exciting.  

And I'm still married!

Andy Carslaw, Filmmaker
http://fernyfilms.wordpress.com