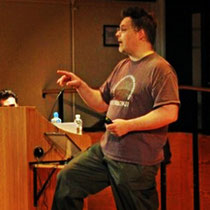 By Mark Davies
First Appeared HERE
Prior to last weekend's 2013 edition of the Guerilla Film Makers Master Class, I had never met Chris Jones, nor seen him in the flesh, nor spoken to him over the telephone. What there had been between us, over the preceding months, weeks, and days, was the occasional on-topic Facebook exchange, and comment on his blog. 
We are not friends (except on Facebook, which is not the same), and I do not owe him any money that could be written off in lieu of a few nice words.
In short, the reason for saying that he's a bloody good egg is that's what I think.
Chris Jones and Genevieve Jolliffe wrote The Guerilla Film Makers Handbook. It is part handbook and part autobiography and – aside from the staggering depth of practical material, all backed up with real-life examples borne of their own, occasionally catastrophic, experiences – its design and layout, with lots of illustrations and cartoons,
was so unlike a text book/manual would normally have looked that it practically flew off the shelves despite the quite considerable aerodynamic inconvenience of coming in at a hefty weight of knots.
I myself used to browse through it on my regular trawls through Foyles bookshop on London's Charing Cross Road and I came close to buying it on countless occasions. In 2008 I launched a slightly scatty fundraising campaign for a film short by asking people to give me a tenner and one of the contributors brought up Chris Jones' name as someone who had recently tried the same tactic. My first reaction was one of light miffness. As I mentioned in a previous post, I thought "crowdfunding" (as I later realised it had become) was an invention of mine, and to find I was not the first chap to have kissed this particular girl was a bit of an anti-climax.
After that, and through which channels I can't remember exactly, his name cropped up in connection with Gone Fishing and the Oscar®-chasing story behind it. This, too, had slightly taken some wind from my own sails. Timing is everything in life, not just comedy. And not for the first time I started to think back on those occasions when an idea had entered my head and, for whatever reason, remained there, leashed.
Gradually, I built up a small picture of Chris Jones in my mind. This was based on articles, blogs, comments and the like and, eventually, his interaction with the low budget film community in general. On the back of the success of that first book there came more books, of course. These gave way to seminars and lectures. His slogan is Make Film, Teach Film. I began to think that if I were he I'd like to swing the balance more in favour of the former, for make no mistake this was a man in love with the idea of making films. As I made clear at the start, I do not know Chris and have no complete idea of how he earns a living (some idea obviously) as his last feature film was some time ago and he is still young enough to have a big career ahead of him, despite all he has done to date.
One thing became clear and that was that he was a Giver. He seemed to be genuinely keen for anyone and everyone to break into the business and be a success, too. This is not necessarily what one would expect of a man working hard to push on with his own career. That sort of person is usually careful to keep some ammunition hidden for his own exclusive use. And he had a carefully crumpled look about him that perfectly fitted into the image of a person who espoused something called guerilla film making. He looked like a man who could hug and be hugged. Even before you saw him up on the stage in the flesh, you knew he wasn't going to intimidate or frighten.
He's not Robert McKee.
But self-confidence he certainly exudes. He is nice, but he is not soft. So I was actually really looking forward to watching him in action, listening not only to what he had to say but how he said it. What kind of an evangelist was he going to be? Would we be expected to whoop and holler? How slick would it all be? You can only be fake for so long. Chris Jones had two full days in front of a paying, if supportive, audience. He built this entire weekend up without shame. It would be awesome; inspirational; unmissable. But wouldhe be?
Yes. In a word.
I am writing this a full week after the event. What I have taken from the occasion, and particularly Chris Jones' part in it, has developed with the passing days. I'm not so easily blown away as I might have been in years gone by. I think one's natural youthful enthusiasm gets a warm wrap of caution by the inevitable failures one racks up in life. So while, for many, the information was like a spilled lemon sherbert in the brain, I slept free of the turbulence of ideas overload. Perhaps a consequence of not arriving at the Master Class with a film project on the go. The networking from my end was muted, and half-hearted, because I am trying to complete the rewrite of a novel and, frankly, I didn't need the distraction. What I have noted, with increasing awareness as the week has progressed, was that I like Chris Jones, and the way he thinks, and the manner in which he presents himself.
He believes. Chris Jones believes what he says. He doesn't do these seminars to get rich (but of course he charges for them – a pittance I might add, for the value he brings), he does them because he believes in it. He believes in you. He believes that he will spend his life as a film maker and he believes that you can, too. If you want to. And you do want to otherwise what are you doing in his Master Class? What he says comes from his own, personal, actual experience. This may be on his own films, this may be on others' films, this may be as writer, or Director, or Producer, or Editor, or Consultant, or friend. He believes in you whether you are fresh out of film school, fifty year old novice, ten year old school girl, it doesn't matter. He believes that there is no excuse for not making your first film in today's extraordinary new technological age. Yes, I personally am of the cinema camp, the ninety minute feature film. But there have never before been so many possibilities on the journey to that point. For Chris Jones, shooting your commute to work (assuming you have not quit that job the morning after the Master Class ended!) on your iPhone, editing, laying a music track and uploading to YouTube is making a film and offering it to an audience. It's the early stage, but it's a stage. I know a salesman when I hear one, but the only thing he could seriously be accused of selling is A Dream. He believes in your own self-belief. And self-belief is King.
Inclusive. For Chris Jones, there are no boundaries. He is inclusive. Here's an interesting little, non-scientific snapshot. There were around two hundred delegates. I don't know what the official statistics are for the percentage of people in the UK who are male, female, ethnic origin etc. I would wager that the delegates present represented that demographic beakdown – if we narrowed the field down to persons of working age. So, film making in Chris' sphere, excludes no one. This is not a coincidence.
Do unto others. The power of Good Karma. I've seen a lot of films on TV recently that are crap. There. We've all said it, countless times, and it's true. Except, of course, it isn't. It can't be crap. It's been bought and paid for by a television network. What it is, is a film you just don't like. It's not your bag. It's corny, or it's too violent, or it's just very, very dull. But someone wrote it, someone produced it, people acted in it, people cooked for it, lit it, recorded it, lost sleep over it, lost money over it, spent part of their life on it. If you met someone who worked on that crap film while you were on holiday somewhere and he/she were talking about the stress involved and the like I can guarantee that you would not ever say to that person that their film was shit. You just wouldn't. It's not because you are two-faced, or haven't got the balls to confront someone. It's because you realise suddenly that the film was not crap after all.
Chris Jones never slagged off a single film, not even with a knowing shrug of the shoulders, or a resigned  lifting of the eyeballs to the heavens. In twelve hours of verbal action, he just didn't. (And he used plenty of examples where he might, and I would, have done.) I certainly know that there were films he would never choose to watch, but he never strayed from his utmost conviction that every film has its merits. Simply by existing at all, the film is already a winner. And that's like us, as human beings. A film idea is like a sperm. There are millions. Very few hit the target and develop into the real thing. And films, like the people sperm creates, come in all shapes and sizes and personalities. (Please note that at no point, any time during the weekend, did Chris Jones ever compare a film treatment to a sperm. But you get my drift.) On several occasions he reminded delegates to imagine if it were their film someone else was making a comment on, how would that feel? No one is wrong, in his eyes, they simply have a different opinion. And he cherishes our right to have one. He is the very embodiment of the phrase: What goes around, comes around.
Ego and the fame game.  When he asked us to suggest, from a list that included Money, Fame, Self-Worth etc., which we thought was his motivation for becoming a film maker, I did not hesitate to answer: "Fame". Correct answer. He's in it for the fame and the glory. How could it be otherwise when he first became afflicted with the dream while still a child? But how nice, how refreshing, how quaintly old-fashioned to hear someone just admit it. He has an ego. Of course. He himself joked that his blog is called…chrisjonesblog.com. Trawl around the best-read film and screenwriting blog sites and see how long it takes to find one similarly eponymously-titled. (Yes, obviously I have an ego, too!) Think about it. If someone asked you to choose between two options: you make ten Hollywood hits, you can either keep the money but no one will EVER know you had anything to do with them, or you are feted for your talent, but don't receive a penny. Which would it be? No, you can only have one or the other! The cult of Celebrity has poisoned the notion of Fame. I grew up thinking fame was a label you wore that said "Known For Excellence." Chris Jones will happily embrace fame, I think, just as long as it's earned.
Integrity. I left the Master Class convinced of the man's integrity. Chris Jones is a good speaker, but he's not slick. He's confident, but he's not smooth. He's a Geek. In a good way, and I didn't know there was a good way. He's occasionally contradictory. I occasionally disagree. But the man who presents on stage is exactly the same as the man who stands patiently engaging with delegates during the breaks. He is what he is. He is believable.
Onwards and Upwards! These are the words with which he ends his blog and his emails. Think about what that means. They are the words of optimism. They are the words that can be preceded by: "Hey ho…" or "Never mind…" or "Still…" They are borne out of adversity, failure even. They're a gee-up. Not just to the people reading them, but also to himself. And is it all about low budget independent film making? Of course not. Being open-minded, collaborative, determined, brave, adventurous, focused, caring, appreciative and, above all, positive…this is a template for Life, isn't it? They are the words of a work in progress; a journey.
Isn't that what we all are, anyway? A work in progress?
Good luck with the film making, Chris. Good luck with Rocketboy. And good luck to all of you reading this who are in the middle of a journey. Keep on keeping on. You always have a choice, remember. Always.
Oh, and if I may be so egocentric, good luck to me with my book, why not?