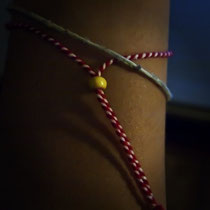 Post by Amritpal Sembhi
(First appeared HERE)
So this weekend I received my first Martenitsa from a dear friend. What is Martenitsa? From my understanding (or Wiki's!) it's a Bulgarian tradition "of which a small piece of adornment, made of white and red yarn is worn in March" symbolising the wish for good health and luck.
(Strangely another similarity among many I've noticed between the Bulgarian and Indian cultures.)
I found this especially thoughtful; as this was the weekend of the Guerilla filmmaking Masterclass I had been looking forward to for so long now. The masterclass is run by Chris Jones: the filmmaker behind the project 50 kisses (nothing to do with first kiss viral!)
The Guerilla in the room
The weekend was just as anticipated and more! I arrived into London town expecting an informative, encouraging and insightful weekend …and got exactly that. The 'more' I got from the weekend was discovering lots of talented people who share the same dream – and not everyone was from the same city, which was particularly faith filling!
My version of the event was about identifying and finding which stage of the filmmaking process I were in. At the beginning of the weekend I felt I sat somewhere quite comfortably in the middle of the scale which led to 'making it big.'
How quickly that changed!
After thinking (not so long and hard) about what may be blocking me from getting there, I'm declaring it as a confidence issue. We all had to commit to a plan as part of our strategy in climbing up this ladder and I decided to make some short term and long term ones to help me overcome this.
Short Term Commitments
1) I have committed not to leave projects unfinished- and am already falling behind with that.
2) More team effort – to collaborate and to help. So if you are in need of a hand, let me know pronto!
3) I'm vouching to take more courses and training days in order to build on other relevant skills. These will include business and screenwriting. I made a special effort to meet many writers over the weekend in hope of collecting advice, feedback and mentors as part of my journey. I hope to do the same for another.
Long Term Commitments
1) To enter more competitions
2) To produce a short film from one of my own scripts
Chris Jones has created a fantastic workshop that truly ticks all the boxes, not only was it technical but philosophical and therapeutic. Cannot recommend it enough to my friends.
SO now here I am: armed with my new found fellow Guerillas and equipped with my Martenitsa firmly tied around my wrist… Let's get going