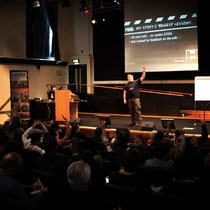 Post by James Evans
(First appeared HERE)
"I don't know where to begin…"
"I am afraid that I will fail…"
"My wife is holding me back…"
This is just a choice selection of "reasons" that I heard when I attended the 2014 Guerilla Filmmakers Masterclass at Regent's college, London and was asked, "What is stopping you from making your movie?"
Led by low budget filmmaker guru Chris Jones, this intensive two day workshop brought together over 170 filmmakers of differing backgrounds and experiences and allowed each and every one of us to move forward with a unified goal… To get that film made and have a career in the movies, no matter what it takes.

Unlike some of the "How To" film classes that I have previously attended, this is one of the first that actively engages the class - directly addressing some of the red lights that stop people from pursuing their aspirations to make a film. Right from the off, we were tasked with jumping straight into a confessional with a fellow delegate and opening up about our thoughts and fears to making our film. I had to apologize to the guy I spoke to as my brain-pounding hangover incapacitated me for much of Day One - damn you, wife's birthday the night before (Oh dear, I have let slip one of my excuses!). The breaking down of barriers even in this small way allowed us to be more open to what we were to learn over the next two days.
Chris Jones is one of the leading voices of independent cinema in the UK. The stories and life lessons that he recites during the workshop demonstrate that once upon a time he was just like us, trying to get a film made without really knowing how to get there. He's hit highs and lows over a career that spans over 20 years; some of them hilarious, others rather frightening. But with a guy who can literally say he's been there and done that with pretty much every low/no budget scenario thrown at him, you know that this course is stamped with hard-earned authority. Above all else, Chris instills a much-required shot of self-motivation into the workshop, driving the sense that everything you need to make your movie is out there and potentially up for grabs… The only things stopping you are your own inhibitors.

Sitting in that auditorium for two days was quite an eye-opener for me. Here was a guy in crumpled fatigues and an OCP T shirt ("I'd buy that for a dollar!") telling me that the opportunities for indie movie makers have never been greater. It was clear from the outset that many people were here to network and meet like-minded individuals (a key component to success is to meet potential cast and crew). But this was not the real reason I came to the class. For me, I needed that mental push… That notion that I really could achieve my dream. And with the right knowledge, mindset and game plan I can go further than most others to achieve my goals. What is more, I was not being lectured by a stuffy film school professor. Here I was surrounded by people telling me about their artistic passion projects ("It's like Joe Orton meets Derek Jarman!") - all noble endeavors, I am sure. But in front of me was a guy secretly confessing to watching Steven Seagal movies! Now this was more like it - someone who watches (and I suspect secretly loves) the same crappy movies that I do. In fact, when I was able to assist with recalling shitty Bruce Willis actioner Striking Distance for Chris (seriously, don't bother with that one), his exclamation of "Movie geeks of the world unite!" confirmed that I was thankfully not alone!
By the end of the course, I have to admit that I was beginning to show signs of information overload - the workshop could have easily filled up a third day. And yet many of my own red lights had been changed to green. A clear game plan has now formulated, s positive mindset is now engaged and I know where I need to go from this point on. Thanks to Chris and his team, a path to chasing the dream that has forever seemed like a mere fantasy can now be taken. Interactive exercises, guest appearances from professional working film makers in the industry and key information to not only making a movie but selling it too - this class is an excellent first step for anyone looking for the basic tools to create that magnum opus. I wish my fellow delegates luck with their various projects - I look forward to buying my ticket and seeing them on that big screen. But first, I must put my own game plan into action. What is stopping me? Now, only myself… And that is not going to happen!